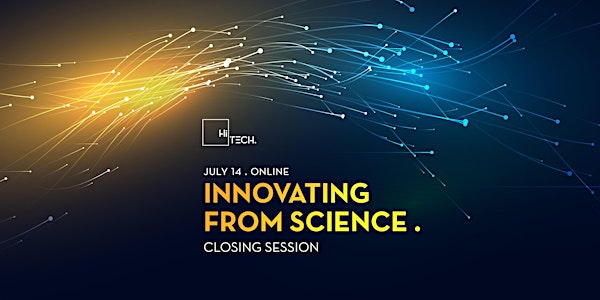 HiTech 2021 • Innovation from Science • Closing Session
HiTech closing session on the 14th of July. The event is free with mandatory registration.
Acerca deste evento
HiTech 2021
Join us in the closing session!
This event will take place online, on July 14th, at 14:30 (Porto time).
The eight participating teams will pitch the business cases for the product concepts developed throughout the HiTech Program. Each project is based on an innovative technology, developed by a research group, from Portuguese R&D organisations, that, over a period of 14 weeks, was supported by advisors and business mentors in the development of a business case.
Join us Wednesday 14th of July! To follow everything, you only have to register here! The event is free with mandatory registration.
Agenda:
14:30 Welcome
Pedro Vilarinho, HiSeedTech
14:45 Teams' presentations
15:45 Break
16:00 Teams' presentations
17:00 Closing session (PT)
António Brandão de Vasconcelos, HiSeedTech
About HiTech:
HiTech is a 14-weeks program that through training, advising, and mentoring supports research teams from Portuguese R&D organisations in translating cutting-edge technology and scientific discoveries into high-growth business opportunities.
Know more here: https://hiseedtech.com
Disclaimer:
By participating in HiTech Closing Session, you authorize the use of your image and voice. The session will be recorded and then upload to YouTube, Facebook, and LinkedIn. If you do not wish to authorize, we suggest that you join the events muted with your camera turned off.