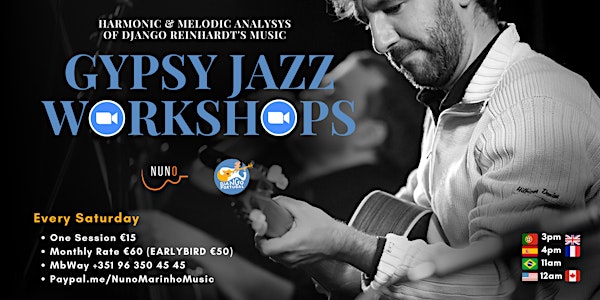 Gypsy Jazz Workshops (online)
The Gypsy Jazz Workshops are weekly guitar classes hosted by Nuno Marinho. Learn the Jazz language, technique and theory on LIVE sessions.
Política de reembolsos
Entre em contato com o organizador para solicitar um reembolso.
A taxa de Eventbrite não é reembolsável.
Acerca deste evento
Every Saturday on zoom students from all over the world gather to learn the secrets of Gypsy Jazz and the music of Django Reinhardt.
The Gypsy Jazz Workshops are Live Sessions. Up to 120 minutes with Q&A.
Get the tools you need to practice effectively. Work Your Way To Excellence.
Nuno Marinho is an experienced musician and teacher. Well known for his ability to communicate with ease even the most complex musical concepts.
Organized, methodic, practical and objective. Nuno has taught hundreds of students worldwide.
If you're into learning music the right way, with a supportive community, and personalized guidance, this is for you.
___________________
WHAT YOU GET
Join the live sessions
Learn a buck load of concepts and ideas that will immediately improve your playing
Real time dialogue and questions
Meet the community and other students
Learn with Nuno and International guests
PDF of the scores for the song analysis
Personal guidance and follow-up via email
Summary and notations for each session
Join the Gypsy Jazz Workshops Facebook Group
Join the NEW WhatsApp Group and interact with the community in real time.
All sessions are recorded and available on the Cloud so you can revised it anytime.
__________________________
WHEN & WHERE
Saturdays at 3 pm UTC
90 minute sessions (up to 120 minutes)
Online via Zoom (ID 490 056 8867)
_________________________
PRICE
One Session: €15 (single session)
Four Sessions: €60 (monthly rate)
EARLY BIRD DISCOUNT: €50
(only until first day of month)
______________________________
PAYMENT METHODS
Direct Bank Transfer:
IBAN PT50 0035 0817 0000 1066 40050
MbWay +351 96 350 45 45
(for Portuguese transfers)
Paypal.me/NunoMarinhoMusic
(please uncheck the goods/service box)
_______________________________
CONFIRMATION & ACCESS
After concluding your payment, you'll get access to the workshop via email. You will also receive the material provided for each session via email.