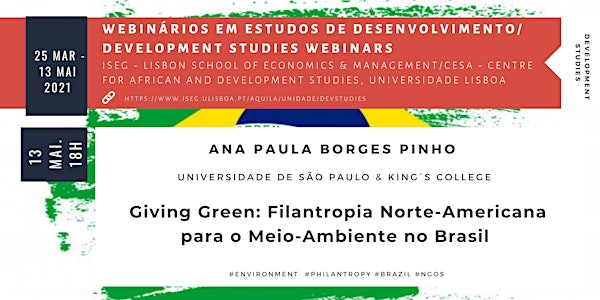 Giving Green: Filantropia Norte-Americana para o Meio-Ambiente no Brasil
Development Studies Seminars 2021
Acerca deste evento
Giving Green: Filantropia Norte-Americana para o Meio-Ambiente no Brasil (PT)
Ana Paula Borges Pinho (Universidade de São Paulo, Brazil, & King´s College, UK)
Biography
PhD Candidate at the King's Brazil Institute as part of the Joint PhD programme in International Relations between King's College London and the University of São Paulo. She holds an MSc in Development Studies from the London School of Economics, is an Erasmus alumnus from the University of Glasgow and a former fellow of the Center on Philanthropy and Civil Society at CUNY.
Please register for your zoom link invitation.
-------
Subscribe to our news here.