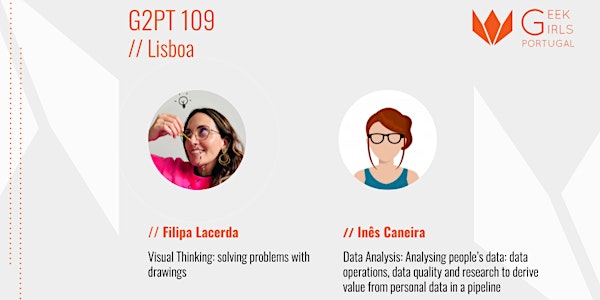 G2PT109 - 109º Geek Girls Portugal - Lisboa
Join us to our next presential event, that will happen on March 29th at Carpe Data! Do not miss it!
Data e hora
Qua, 29 de mar de 2023 18:00 - 20:30 WEST
Localização
Avenida 5 de Outubro Avenida 5 de Outubro 1050-370 Lisboa Portugal
Acerca deste evento
ur upcoming in-person meetup will take place at Carpe Data in Lisbon, on March 29!
We'll start our event with a presentation from Carpe Data given by Olga Dryuchenko followed by the close up of the Carpe Data Shadowing Day, an event organized to give 4 Geek Girls the opportunity to spen the day shadowing one of the Data Analysts at Carpe Data.
Next, we'll hear Inês Carreira, Data Analyst at Carpe Data, to learn more about what's Data Analysis and Analysing people's data.
To close our event, we invite Filipa Lacerda, User Experience Designer at Critical TechWork and that will talk about Visual Thinking.
We asked Filipa to give us a sneak peak of what to expect from her presentation, and that's what she shared with us: "Everyday we find complex and interesting problems waiting to be solved. Either big, small, personal or business related, we usually resort to language to try to fix it and find a solution. The problem is that - even though it's a great and very familiar tool - language has it's limitations.
It's only when we start to visualise our thoughts that we start to be able to explore the concepts, make connections, identify patterns, spot gaps and see the bigger picture.
Visualisations bring clarity and are fun!
They help people get engaged and create well formulated ideas - this creates an environment where people work together and iterate on a particular subject and energises your work. "
We hope that you feel inspired to hear our speakers and participate in our event.
As always, the registration is free but with limited places. So, don't miss your spot!
______________________________________________________________________________
Agenda
18:00 – Welcome Drinks & Snacks
18:20 - Geek Girls Welcoming Presentation
18:30 - Carpe Data Intro | Olga Dryuchenko
18:40 - Carpe Data Shadowing Day Feedback
19:00 - "Data Analysis: Analysing people's data: data operations, data quality and research to derive value from personal data in a pipeline" | Inês Carreira
19:30 – "Visual Thinking: solving problems with drawings" | Filipa Lacerda
20:00 - Q&A / Networking / Closing
About Geek Girls Portugal...
Founded in 2010, Geek Girls Portugal is the first Portuguese community and network dedicated to inspiring and empowering women to excel in technology careers.
Its mission is focused on 1) the involvement, inspiration and empowerment of women, through meetings and workshops, 2) raising awareness about careers in technology for younger women through sessions in schools, and 3) mentoring and supporting professional careers of women in technology.
Website | Facebook | Twitter | Instagram | Linkedin | hashtag: #G2PT109
Apoio: