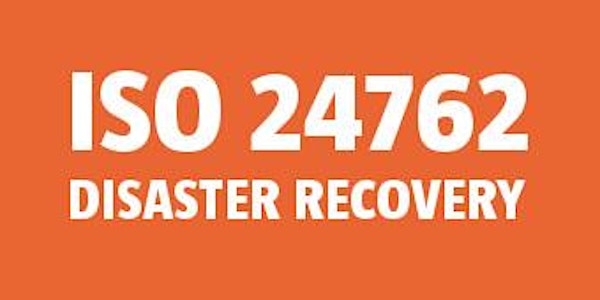 Disaster Recovery Manager
Quando e onde
Localização
Lisboa Av. Visconde de Valmor, 66, 4º Av. Visconde de Valmor, 66, 4º 1050-242 Lisboa Portugal
Política de reembolsos
Entre em contato com o organizador para solicitar um reembolso.
A taxa de Eventbrite não é reembolsável.
Descrição
Mastering the implementation and management of ICT Disaster Recovery Services according to ISO 24762.


Introduction
This three day intensive course enables the participants to develop the necessary expertise to support an organization in implementing, maintaining and managing an ongoing Information and Communications Technology Disaster Recovery plan according to ISO 24762. Participants will also gain a thorough understanding of best practices described by this International Standard.
Training Methodology
This training is based on both theory and practice:
- Sessions of lectures illustrated with examples based on real cases.
To benefit from the practical exercises, the number of training participants is limited.

Audience
- Disaster Recovery of IT
- Individuals responsible for disaster recovery of conformity within an organization
- Members of a disaster recovery team
- IT disaster recovery consultants
- Staff implementing or seeking to comply with ISO 24762 or involved in a disaster recovery plan.

Learning Objectives
At the end of the course students should be able to:
- understand the concepts, approaches, methods and techniques for the implementation and effective management of Disaster Recovery services
- understand the relationship between ICT Disaster Recovery and the compliance with the requirements of different stakeholders in an organization
- acquire the competence to implement, maintain and manage a Disaster Recovery plan in accordance with ISO 24762
- acquire the competence to effectively advise organizations on the best practices in ICT Disaster Recovery

Program
1: Introduction, risk assessment and mitigation according to ISO 24762
2: Recovery facilities and sites, outsourced services and activation of DR plan according to ISO 24762
3: Measurement, testing and continual improvement
4: Certified ISO 24762 Disaster Recovery Manager Exam
General Information
- Training in English language.
- Course manual in English, containing over 300 pages of information and practical examples.
- Behaviour Participation Certificate.
- PECB Participation certificate of 21 CPD (Continuing Professional Development) credits.
- Coffee break in the morning and afternoon (Applies to all training that take place in Behaviour facilities)
Perguntas Frequentes
Onde posso contactar o organizador se tiver questões?
More informations about program, dates and prices: http://www.behaviour-group.com/PT/iso/iso-24762-disaster-recovery/?lang=en
Contact us:
+351212103732
training@behaviour-group.com
www.behaviour-group.com