Digital Tools for Group Facilitation and Leading Virtual Teams
Descrição
Background
The convergence of two driving forces - the need for remote collaboration and the growing adoption of interdepartmental teams and group work - has created a market space for various digital tools for remote collaboration (Trello, Mural, Nureva Span, GroupMap, among others).
Since the 1990s, I have been using these digital tools to facilitate groups, and I am witnessing how they strongly impact the effectiveness of a meeting and the involvement of its participants.
However, the "secret of success" is to adopt a leadership style that enables team members to lead themselves. In this course we will create several active experimental sessions - a living lab - where various group processes will be virtually hosted, focusing on problem solving and group decision making.
At the end of this workshop, participants will reflect on the experience, learning how the values ​​of group facilitation can help the practice of facilitative leadership.

How to lead and facilitate virtual teams?
There are many obstacles to leading and facilitating a virtual team when all meetings are online and participant involvement is less than ideal. But any leader who organizes an online meeting with a virtual team can overcome all of these usual pains and achieve more effective results by adopting digital group facilitation tools and facilitative leadership.
On the other hand, the adoption of these new digital facilitation tools makes it possible to design a new kind of hybrid meetings in which the usual difference between participants in the room and at a distance almost disappears and everyone participates effectively.
Objectives of this course:

- Identify the main types of digital tools for group facilitation and understand their impacts on collaborative work.
- Experience the dynamics of problem solving and decision making with a remote team.
- Learn more about the values ​​of group facilitation and their impact on more effective leadership
Target audience
This training course is designed for public, private and NGOs' team leaders, multi-sectoral group leaders, advisers on complex development processes and responsible for driving participation; group facilitators interested in improving their use of digital tools.
Learners will gain insight into digital tools designed to turn unproductive meetings and projects into dynamic meetings and successful workshops, and how they can be used in practice to deliver services to their internal or external clients.
Contents
This course will take the form of a living laboratory where the learning needs of each participant are captured and participatory learning processes will be designed focused on practical results.
Some examples of topics to be covered:
How to select digital tools for group facilitation?

When is the most appropriate use of digital tools?

How to design collaborative processes making the most of digital tools?

How to facilitate group communication in hybrid meetings?

How to overcome the main obstacles in managing virtual teams?
Methodology
The program combines 1 day of face-to-face training followed by 2 virtual sessions where participants will apply the methods and tools to a chosen scope and document their experiences, according to the following steps:
You watch me (in-person session)
You help me do it (in-person session)
You do it, I help you (1st Virtual Session)
You do it, I watch you (2nd Virtual Session)
The presential module has an interactive character that involves short lectures, mock sessions, group work analysis and group dynamics. It is essential that trainees participate actively in this course.
Duration
The presencial course will last 4 hours from 9:00 to 13:00 and the virtual session will last 90 minutes.
About the trainer
Paul Nunesdea is the English author name of Paulo Nunes de Abreu and his LinkedIn profile can be reached here, or in Spanish here, or in Portuguese here. His unique skill-set is forged along more than 25 years of work experience in several top-executive management positions. In September 2018, he started col.lab | collaboration laboratory, a spin-off from his books' series on group facilitation.
As a group facilitator and IAF (International Association of Facilitators) member, he has started the Iberian Summits of Healthcare Leaders in Spain and the Hospital of the Future Forum in Portugal, and recently Visual Collab in the RSA House in London.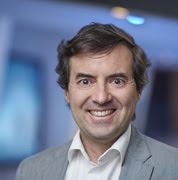 Curriculum Summary
Degree in Organizational Psychology from ISPA, Master in Information Management from Sheffield University. Since 1996 I have been a professor at the Higher Institute of Applied Psychology and at ISEG (School of Economics and Management at the University of Lisbon). As a Fellow of the Calouste Gulbenkian Foundation, I completed my PhD in Management Sciences from the University of Lancaster in November 2000. I was a consultant to the Regional Government of Madeira (Regional Health Directorate) and carried out various consulting and research projects to ISEG, INETI, Évora City Council, several companies of the EDP group, Ministry of Health Portugal, Eureko BV, European Monitoring Center for Drugs, and PWC, in Spain.
More information about the IAF (International Association of Facilitators):
www.iaf-world.org
E-mail: iaf.portugues@gmail.com

---
More information about col.lab | collaboration laboratory
Col.lab is a spin-off of Paulo Nunes de Abreu's books on facilitation and leadership facilitation that emerges within a community of practice within the International Association of IAF Facilitators - Chapter in Portugal and brings together a body of professionals working together. with group facilitators from around the world.
To contact us here.