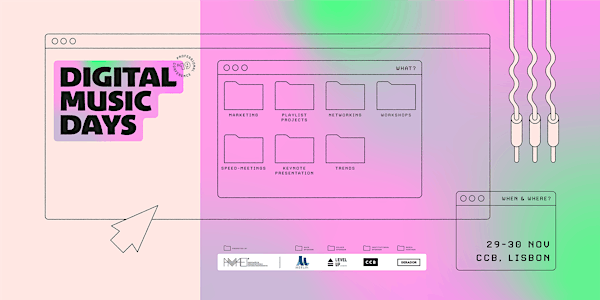 Digital Music Days
1st edition of the DIGITAL MUSIC DAYS Professional Conference, to be held at the CCB on 29 and 30 November 2019.
Quando e onde
Localização
Centro Cultural de Belém Praça do Império 1449-003 Lisboa Portugal
Política de reembolsos
Entre em contato com o organizador para solicitar um reembolso.
A taxa de Eventbrite não é reembolsável.
Acerca deste evento
AMAEI - the Portuguese Independent Trade Association was founded in 2012 to defend, promote and empower the professionalization of the national independent recording industry. AMAEI co-founded, in 2014, the Westway LAB Festival & Conference in Guimarães, the first showcase festival and professional conference of the music industry in Portugal, focusing on internationalization and European networks; is heading for its 7th edition in April 2020. AMAEI was also the founder of WHY Portugal, Portuguese music export office.
In 2019, in partnership with CCB and with the support of MERLIN and Level: UP Distribution, debuts the first edition of the DIGITAL MUSIC DAYS Professional Conference, to be held at CCB on November 29th and 30th, 2019. While Westway's LAB focus is global to the entire music industry (live music, recorded music, and publishing / syncing), this new event DIGITAL MUSIC DAYS presents itself as Europe's premier conference on digital music: marketing, playlists, trends and networking.
It counts with the participation of the large platforms such as Apple Music, YouTube, Facebook & Instagram as well as playlist projects such as SonoSuite, partner associations such as AIM, presentations from Music Unlimited, digital marketing sessions, networking and speed-meetings; and a keynote from Charles Caldas, CEO of MERLIN.
An event not to be missed, intended for all professionals of recorded music in Portugal as well as continental Europe: large, small, independent or not; as well as the growing number of self-released artists on the digital eco-system.
More info at www.digitalmusicdays.com