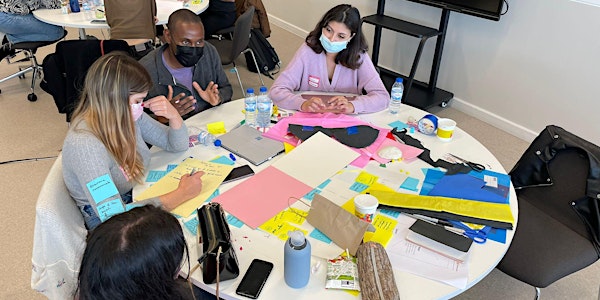 Design Jam for Impact
Design jam for impact: Let's collaborate and co-create to tackle social and sustainability issues.
Por DESISLab + ERA Chair in Social Innovation@NOVA SBE
Data e hora
Sáb, 1 de abr de 2023 10:30 - 16:00 WEST
Localização
Nova School of Business and Economics 1 Rua da Holanda Meeting point at Padaria do Bairro for more directions 2775-405 Carcavelos Portugal
Política de reembolsos
Entre em contato com o organizador para solicitar um reembolso.
A taxa de Eventbrite não é reembolsável.
Acerca deste evento
5 horas 30 minutos

eTicket móvel
Join us for our second edition of the DESIGN JAM FOR IMPACT organized by the DESIS Lab @ Nova SBE and REDE DESIS Lab @ Faculty of Architecture in Lisbon. This is an amazing opportunity to engage in multi-disciplinary collaboration to design, iterate and refine impactful solutions to address social and environmental issues.
WHAT WILL WE DO
The day will be fast-paced and full of hands-on activities to allow you collaboratively generate innovative solutions to help six projects (from NovaSBE students and social entrepreneurs tackling social and environmental issues.
We will practice design thinking and learn practical tools to nurture your creative problem-solving and develop meaningful and sustainable solutions to tackle complex social and environmental issues in our communities.
Design thinking is a powerful approach to help develop insights into problems that generate solutions that may otherwise remain hidden to you.
WHAT WILL YOU LEARN?
Multidisciplinary communication and collaboration, journey maps, prototyping, scenarios and storytelling.
More than anything, you'll have the opportunity to work with like-minded passionate people from different disciplines!
HOW?
As a participant, you will be a creative collaborator. As such you will work with 5 projects which address a social and / or environmental issue. They are passionate by their idea but they also believe in the power of collaboration and diversity, and are looking for creative inputs and different perspectives.
The workshop will be facilitated by Anne-Laure Fayard (Nova SBE) and Inês Veiga (FAL). (See below to know more about our team).
WHO?
If you are passionate about impact and want to hone your design thinking skills, flex your creative muscles and nurture your collaborative power, sign up and join us on April 1st!
THE PROJECTS WE WILL BE WORKING WITH:
-> CEBRA. Transforming young professionals into future responsible leaders. Focus: Leadership Education
Group representatives: Milosz Kwapiński & Marielen Winter
-> Imperfecti Design Focus: Environmental Sustainability
João Anes
-> AGOJI Studio Focus: Sustainable Fashion and women empowerment
Group representatives: Charlotte Kramer & Linda Reitberger
-> SufHeat Focus: Environmental Sustainability
Group representatives: Alena Kananovich & Kirill Lazarev
-> Bloody Marie Focus: Health
Group representatives: Josef Zimmerer & Mariella Von Der Wense,
-> SAKHI Focus: Food and sustainable packaging
Asmita Ghimire and Yoonchhomi Subba
This event is OPEN to all people interested in collaborating and co-creating for social impact. We have a limited number of seats.
Lunch will be provided
OUR TEAM
Anne-Laure Fayard, ERA Chair Professor of Social Innovation, coordinator of Nova DESIS (design for social innovation and sustainability) Lab, and Visiting Research Professor at NYU …. And most of all a passionate design thinker who cares for impact!
Inês Veiga, Assistant Professor at FA-ULisboa, designer and designer researcher crossing graphic design with intervention and local and social causes.
We will also have the chance to have the participation of four our DESIS Lab@NovaSBE mentors - Catarina Lisboa, Joana Ramalho, Mafalda Paiva Chaves and Alisson Avila To know more about our mentors
The workshop is coordinated by Beatriz Bento, our wonderful DESIS Lab@NovaSBE community manager.