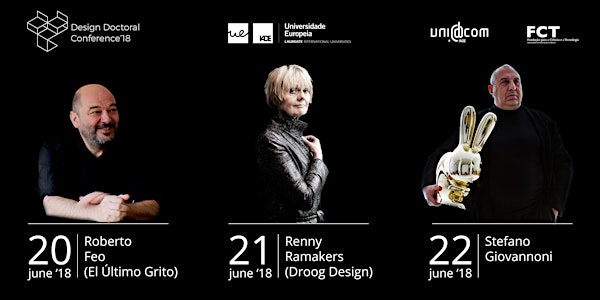 Design Doctoral Conference DDC'18 - Transgression
Quando e onde
Localização
IADE - Creative University 4 Avenida Dom Carlos I Fabrica - 3° Andar 1200-649 Lisboa Portugal
Descrição
In 2018 the DDC, Design Doctoral Conference comes back to IADE, Universidade Europeia for its 5th edition. The conference will take place the days 20th, 21st and 22nd of June, in IADE's Campus in Santos, Lisbon. This edition intends to provide reflections about the theme of Transgression. Several designers and artists have chosen transgression as a strategy to create provocative works. Avant-guards and radical movements had a central role, promoting disruptive approaches with the aim to overcome pre-established elements, with the idea of renewing, overstepping, going beyond.
Nevertheless, the theme transgression encompasses a more complex concept: it means disobedience, subtending the idea to break the limits imposed by the society, market, and industry. We may today identify transgression as a promoter of cultural change, as an endorser of new behaviors, as a catalyst for innovation.
This year we are proud to guest as keynote speakers:
Day 1, 20th of June 2018, Roberto Feo, founder of El Último Grito and professor of design practice at Goldsmiths, University of London.
Day 2, 21st of June 2018, Renny Ramakers, co-founder and creative director of Droog Design,
Day 3, 22nd of June 2018, Stefano Giovannoni, architect and industrial designer, collaborating with companies as Alessi, Fiat, Lavazza, etc.