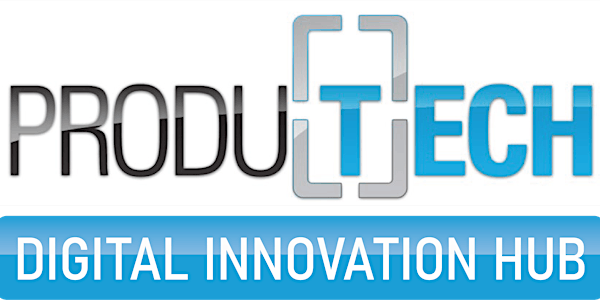 [Data Week Local Event] Data in Industry: opportunities and challenges
Possible applications of data-driven solutions in the industry, namely in manufacturing, predictive maintenance, and energy management.
Acerca deste evento
This workshop is promoted by Produtech DIH, in the context of the Data Week 2022 co-organised by EUHubs4Data and BDVA, and will discuss the evolution of data management architectures, pointing to their characteristics and their role in data-driven information systems that support advanced data analytics environments. This includes the presentation of the Technology for Adaptive Data Analytics (TADA) concept, which uses Machine Learning and Metaheuristics for data-based decision support, and a general presentation describing common issues and challenges related to data management when deploying artificial intelligence (AI) solutions in manufacturing settings. The importance of data in industry and in smart grid applications will be discussed based on their opportunities and technological challenges.
The workshop will be moderated by Ricardo J. Machado (University of Minho and CCG/ZGDV), and counts on the participation of the following speakers: Artem Nazarenko (Centre of Technology and Systems, UNINOVA-CTS), Carlos Ramos (GECAD, Polytechnic of Porto), Francisco Duarte (University of Minho and CCG/ZGDV), Hugo Ferreira (INESC TEC), Maribel Yasmina Santos (University of Minho and CCG/ZGDV), Paulo Cortez (University of Minho and CCG/ZGDV), Pedro Rocha (PRODUTECH), and Zita Vale (GECAD, Polytechnic of Porto).
Certificates can be provided on request during the event.
The workshop will be held in zoom (limited to 100 persons). The link will be sent closer to the event date.
And it will also be available (without limit) on Data Week 2022 platform:
- registration: https://data-week-2022.b2match.io/signup
- agenda event: [Local event] Data in Industry: opportunities and challenges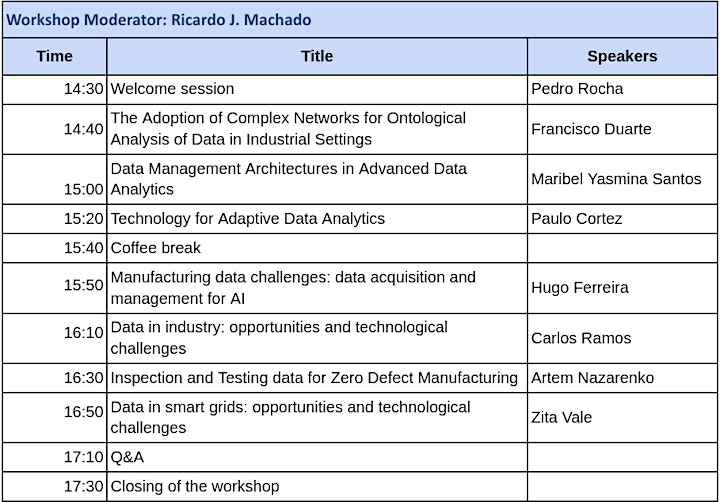 Artem A. Nazarenko is a PhD student at the Department of Electrical and Computer Engineering at the New University of Lisbon. He is also a part of Collaborative Networks and Distributed Industrial Systems research group at the UNINOVA Institute. He has more than 10 conference and journal publications. He was/is involved in several international research initiatives, such as two Horizon 2020 projects: Virtual Factory Open Operating System (vf-OS) and Zero Defect Manufacturing Platform (ZDMP). Nowadays, his research interests include remote collaboration, cyber-physical systems, Internet of Things and Machine Learning techniques.
Carlos Ramos is a Full Professor at Porto School of Engineering (ISEP) and was the first Director of GECAD, currently being a member of the Board of Directors. He was Vice-President of the Polytechnic of Porto, having been responsible for the R&D, Innovation, and Internationalization areas. With the participation in 58 R&D projects (coordinator of 25), and more than 500 publications (~90 in journals), Carlos Ramos has important work in the areas of Planning with AI and Intelligent Environments with application in Industry.
Francisco Duarte is professor at the Department of Information Systems, Engineering School, University of Minho, Portugal (since 2004). He holds an Engineering Degree and a MSc on Informatics and a PhD on Information Systems (2014). Since 2015, he has been an associated researcher at the ALGORITMI research centre, Member of the IST R&D Group and of the SEMAG R&D Lab. He is also an Affiliated Researcher of CCG/ZGDV Institute. He has been co-advising several PhD thesis and participated in more then 40 public communications for specialized audiences with particular emphasis on events related with Digital Transformation. He has also participated and contributed for several tech debates (e.g. on Artificial Intelligence and Advanced & Interoperable Digital B2B Platforms for Smart Factories and Energy) and strategic reports (e.g. the report on Work, Robotization, and Qualification for the Employment in Portugal).
Francisco Duarte has participated as a keynote speaker in scientific conferences on R&D topics related to his research interests, which are, among other, centred on Industry 4.0 Challenges in Manufacturing Organizations, Intelligent Systems in Connected Industries, or Interoperability Scenarios in Digitally Connected Organizations.
He has also assumed positions of manager or director in private companies such as Blaupunkt, Bosch, Altran and Capgemini Engineering.
Hugo Ferreira is a researcher with a PhD in Informatics, in the area of artificial intelligence (automated planning and machine learning), FEUP, 2011. He has been involved in data-mining and machine learning projects in the areas of structural health monitoring (acoustic emissions), on-line recommendation (fashion industry), prediction of industrial energy consumption (ornamental stone cutting machines) and industrial maintenance (detection and prognosis). Other areas of interest include applying machine learning to collaborative processes (decision support systems, social computing, human computing and serious games).
https://www.inesctec.pt/en/people/hugo-miguel-ferreira#short_bio
Maribel Yasmina Santos is a Full Professor of the Department of Information Systems, School of Engineering, University of Minho, Portugal. She is also Senior Researcher in the ALGORITMI Research Centre (http://algoritmi.uminho.pt) and in the IT Engineering Process Maturity and Quality (EPMQ) domain CCG/ZGDV institute as Affiliated Researcher (http://www.ccg.pt). She is the leader of the Software-based Information Systems Engineering and Management Group (http://semag.algoritmi.uminho.pt) at ALGORITMI, also coordinating the "Organisational and Analytical Data-intensive Systems" research track. Her research interests include Business Intelligence and Analytics, with a particular focus in Big Data Analytics and the Data Architectures that support Big Data Systems.
https://maribel.dsi.uminho.pt
Paulo Cortez is Full Professor at the Department of Information Systems, University of Minho. He is also assistant director of the ALGORITMI R&D centre. He is also Affiliated Researcher of CCG/ZGDV Institute. His research interests are: Business Analytics, Data Science, Decision Support Systems, Neural Networks and Machine Learning, Evolutionary Algorithms and Artificial Intelligence Applications.
He is co-author of more than 197 indexed (e.g., ISI, Scopus) publications in international peer reviewed journals (e.g., Journal of Heuristics, Decision Support Systems, Neurocomputing) and conferences (e.g., IEEE IJCNN, ACM GECCO). He has more than 9450 Google Scholar citations (h-index of 40) and 3873 Scopus citations (without self-citations, h-index of 27). He has participated in more than 36 R&D projects and has supervised 6 Postdoctoral works, 10 PhD thesis, 48 MSc thesis and 18 BSc final graduation projects in the area of Intelligent Data Analysis. He is currently Associate Editor of the journals Decision Support Systems (ranked A* at CORE, JCR Q1) and Expert Systems (JCR Q2), and was formerly Associate Editor of Neural Processing Letters (JCR Q2).
See: https://pcortez.dsi.uminho.pt/
Pedro Rocha is the Executive Director/Coordinator of PRODUTECH DIH. Economist, with specialized training and practioner in Science, Technology and Innovation Management and Economics and Intellectual Property Rights. Member of the Coordination Committee of the Partnership Portugal Clusters, Member of the Steering Committees of the Pilot Actions "3d Printing" and "Efficient and Sustainable Manufacturing" of the European Vanguard Initiative. Member of the Strategic Committee of the Portuguese "Industry 4.0" initiative, on behalf of the partnership Portugal Clusters.
Ricardo J. Machado is a full professor of Information Systems Engineering and Technology in the Dept. of Information Systems at the University of Minho (UMinho), School of Engineering.
Within the Information Systems Engineering domain, his primary research interests are in modelling and requirements for systems analysis and design and in process and project management life-cycles. He has supervised 60 completed PhD and MSc theses in these areas. He has published around 200 scientific publications and 4 industrial patents, and has acted as coordinator (PI) and senior researcher of over 60 R&D projects. Some of these projects are related to the Digital Transformation of the Society in the Industry 4.0 and Smart Cities contexts, and other application domains.
Currently, at UMinho he is president of the Executive Management Board of the DTx Digital Transformation CoLab and president of the Administration Board of the CCG/ZGDV Institute. He is also president of the National Council of the Informatics Engineering Society at the OEP Portuguese Engineers Association, national delegate in the General Assembly of the UNESCO IFIP International Federation for Information Processing, member of the Board of Directors and the Steering Committee of the NESSI Networked European Software and Services Initiative European Technological Platform (ETP), member of the Steering Committee of the ICSOB International Conferences on Software Business - Springer, and member of the Editorial Board of the Journal of Information Systems of the Brazilian Computer Society.
For more information about Ricardo J. Machado, visit his ORCID public profile (https://orcid.org/0000-0002-3626-2569).
Zita Vale is a Full Professor at the Porto School of Engineering (ISEP). She was Director of GECAD (Research Group on Intelligent Engineering and Computing for Advanced Innovation and Development), a unit classified as Excellent by the Portuguese Foundation for Science and Technology, and is currently a member of the Board of Directors. With participation in more than 60 R&D projects, more than 900 publications (140 in journals), and more than 13,000 citations (h-index 54 in Google-scholar) Zita Vale has an important contribution in Knowledge-Based Systems, Multi-Agent Systems, Neural Networks, Particle Swarm, and Data Mining, with applications in Energy Systems.