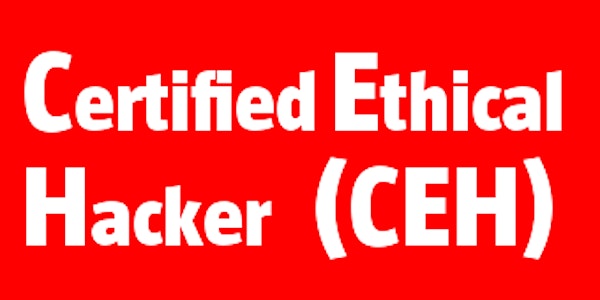 Certified Ethical Hacker (CEH)
Live Online Training
Quando e onde
Localização
Lisboa Av. Visconde de Valmor, 66, 4º Av. Visconde de Valmor, 66, 4º 1050-242 Lisboa Portugal
Política de reembolsos
Entre em contato com o organizador para solicitar um reembolso.
A taxa de Eventbrite não é reembolsável.
Acerca deste evento
Mastering the hacking technologies. To beat a hacker, you need to think like one! Think like a hacker Introduction The Certified Ethical Hacker (CEH) credential is the most trusted ethical hacking certification and accomplishment recommended by employers globally. It is the most desired information security certification and represents one of the fastest-growing cyber credentials required by critical infrastructure and essential service providers. Since the introduction of CEH in 2003, it is recognized as a standard within the information security community. CEH v11 continues to introduce the latest hacking techniques and the most advanced hacking tools and exploits used by hackers and information security professionals today. The Five Phases of Ethical Hacking and the original core mission of CEH remain valid and relevant today: "To beat a hacker, you need to think like a hacker."
Certified Ethical Hacker (CEH) Version 11 provides an in-depth understanding of ethical hacking phases, various attack vectors, and preventative countermeasures. It will teach you how hackers think and act maliciously so that you will be better positioned to set up your security infrastructure and defend future attacks. Understanding system weaknesses and vulnerabilities help organizations strengthen their system security controls to minimize the risk of an incident. CEH was built to incorporate a hands-on environment and systematic process across every ethical hacking domain and methodology, giving you the opportunity to work towards proving the required knowledge and skills needed to perform the job of an ethical hacker. You will be exposed to an entirely different posture towards the responsibilities and measures required to be secure. In its 11th version, CEH continues to evolve with the latest operating systems, tools, tactics, exploits, and technologies.
When a student leaves this intensive 5 day class they will have hands on understanding and experience in Ethical Hacking. This course prepares you for EC-Council ANSI accredited Certified Ethical Hacker exam 312-50.
Legal Agreement
Ethical Hacking and Countermeasures course mission is to educate, introduce and demonstrate hacking tools for penetration testing purposes only. Prior to attending this course, you will be asked to sign an agreement stating that you will not use the newly acquired skills for illegal or malicious attacks and ou will not use such tools in an attempt to compromise any computer system, and to indemnify EC-Council with respect to the use or misuse of these tools, regardless of intent.
Not anyone can be a student - the Accredited Training Centers (ATC) will make sure the applicants work for legitimate companies.
Training Methodology The Certified Ethical Hacker class will immerse the students into a hands-on environment where they will be shown how to conduct ethical hacking. They will be exposed to an entirely different way of achieving optimal information security posture in their organization; by hacking it! They will scan, test, hack and secure their own systems.
Audience The Certified Ethical Hacking training course will significantly benefit security officers, auditors, security professionals, site administrators, and anyone who is concerned about the integrity of the network infrastructure.
Pré Requisitos
Your own laptop is required - bring your own device (BYOD) to training.
Learning Objectives At the end of the course students should be able to:Key issues include plaguing the information security world, ethical hacking, information security controls, laws, and standards.
Perform footprinting and reconnaissance using the latest footprinting techniques and tools as a critical pre-attack phase required in ethical hacking.
Network scanning techniques and scanning countermeasures.
Enumeration techniques and enumeration countermeasures.
Vulnerability analysis to identify security loopholes in the target organization's network, communication infrastructure, and end systems.
System hacking methodology, steganography, steganalysis attacks, and covering tracks to discover system and network vulnerabilities.
Different types of malware (Trojan, Virus, worms, etc.), system auditing for malware attacks, malware analysis, and countermeasures.
Packet sniffing techniques to discover network vulnerabilities and countermeasures to defend sniffing.
Social engineering techniques and how to identify theft attacks to audit humanlevel vulnerabilities and suggest social engineering countermeasures.
DoS/DDoS attack techniques and tools to audit a target and DoS/DDoS countermeasures.
Session hijacking techniques to discover network-level session management, authentication/authorization, cryptographic weaknesses, and countermeasures.
Web server attacks and a comprehensive attack methodology to audit vulnerabilities in web server infrastructure, and countermeasures.
Web application attacks and comprehensive web application hacking methodology to audit vulnerabilities in web applications, and countermeasures.
SQL injection attack techniques, injection detection tools to detect SQL injection attempts, and countermeasures.
Wireless encryption, wireless hacking methodology, wireless hacking tools, and Wi-Fi security tools.
Mobile platform attack vector, android vulnerability exploitations, and mobile security guidelines and tools.
Firewall, IDS and honeypot evasion techniques, evasion tools and techniques to audit a network perimeter for weaknesses, and countermeasures.
Cloud computing concepts (Container technology, serverless computing), various threats/attacks, and security techniques and tools.
Penetration testing, security audit, vulnerability assessment, and penetration testing roadmap.
Threats to IoT and OT platforms and learn how to defend IoT and OT devices securely.
Cryptography ciphers, Public Key Infrastructure (PKI), cryptography attacks, and cryptanalysis tools.
Program
Module 01: Introduction to Ethical Hacking
Module 02: Footprinting and Reconnaissance
Module 03: Scanning Networks
Module 04: Enumeration
Module 05: Vulnerability Analysis
Module 06: System Hacking
Module 07: Malware Threats
Module 08: Sniffing
Module 09: Social Engineering
Module 10: Denial-of-Service
Module 11: Session Hijacking
Module 12: Evading IDS, Firewalls, and Honeypots
Module 13: Hacking Web Servers
Module 14: Hacking Web Applications
Module 15: SQL Injection
Module 16: Hacking Wireless Networks
Module 17: Hacking Mobile Platforms
Module 18: IoT and OT Hacking
Module 19: Cloud Computing
Module 20: Cryptography
Exame
312-50 - Certified Ethical Hacker (CEH)
Number of Questions: 125
Passing Score: between 60%-85%, depending on which exam form students are challenged
Test Duration: 4 Hours
Test Format: Multiple Choice
CEH Exam will be scheduled for Behaviour Testing Center or Proctor Online. If you prefer to do your exam in another physical location, let us know before register for this course.
Certificação
Certified Ethical Hacker
General Information - Training in Portuguese or English language.
Online training material in English, with online access for 1 year.
Access to your EC-COUNCIL private area to download all tools.
Hands on Labs - environment that simulates a real time information infrastructure. iLabs is a subscription-based sandboxed Cyber Range where InfoSec Professionals can hone their skills, launch attacks, perform investigations, and test new attack & defense tools with just a click of the mouse. Students can access cloud-based iLabs virtual Lab environment by using any standard web browser.
EC-COUNCIL Exam. You can schedule the exam within 11 months after training. The exam is available online.
Digital Behaviour Participation Certificate with 35 CPD/CPE.
EC-COUNCIL Certificate.
Onde posso contactar o organizador se tiver questões?
More informations about program, dates and prices: https://behaviour-group.com/PT/curso-ceh-ethical-hacker/
Contact us: +351212103732 training@behaviour-group.com www.behaviour-group.com