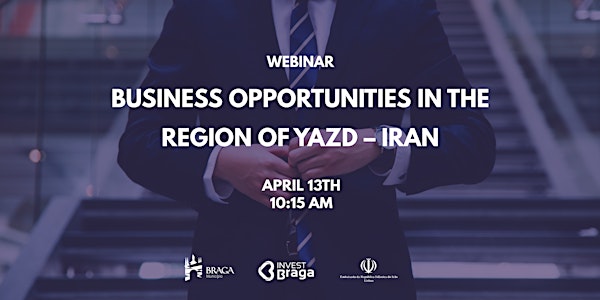 Business Opportunities in the region of Yazd – Iran
Webinar "Business Opportunities in the region of Yazd - Iran"
Acerca deste evento
InvestBraga, in partnership with the Municipality of Braga and the Embassy of the Islamic Republic of Iran, in Lisbon, are pleased to invite you to the Webinar* "Business Opportunities in the region of Yazd - Iran", which will take place on the 13th of April, at 10:15 am.
In this webinar session, we will be presenting the potential of the Iranian market to companies, particularly in the Yazd region, one of the most entrepreneurial regions in this country.
* Webinar will be in English .
Agenda:
10:15 am Welcome Session
Ricardo Rio, Mayor of Braga and President of InvestBraga
10:25 am The economy of Iran and the market of the Yazd Region
H.E. Morteza Damanpak Jami, Ambassador of Iran in Portugal
10:40 am Business opportunities between Portugal & Iran
Nader Haghighi, President of Portugal-Iran Business Council
10:55 am Business and investment opportunities in the Yazd Region
Mohammad Reza Gomi, President of Yazd Chamber of Commerce and Industries
11:10 am Customs duties, tariffs and import regulation, incentives
Alamdar Yazdi, Head of Yazd Industries, Mining and Trade Organization
11:25 am Introduction to Portugal-Iran bilateral economic relations
José Carlos Pereira, International Business Developer
11:40 am Portuguese Case Study
Paulo Vigário, Mota Ceramic Solutions, SA
12:00 am Startup Braga and its connection to networks promoting entrepreneurship
Luís Rodrigues, Director of Startup Braga
12:15 pm Questions & Answers
12:30 pm Closure
Carlos Silva, Executive Board Member of InvestBraga
Participation is free, but subject to registration.
NOTE: After registration, you will be sent a link to watch the Webinar.