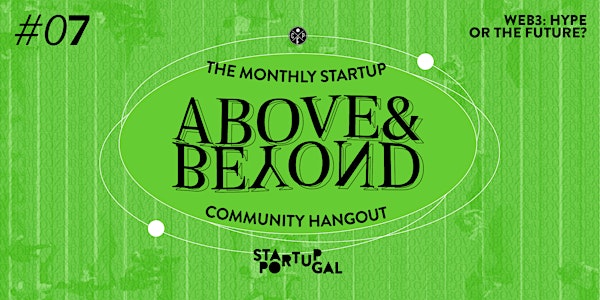 Above & Beyond Hangout #7 / Web3: hype or the future?
Join a discussion on the challenges of a decentralized web.
Quando e onde
Localização
Ferroviário 59 Rua de Santa Apolónia 1100-468 Lisboa Portugal
Acerca deste evento
Register in this event to claim your ticket to attend in person or remotely. Remote event ticket holders will receive the Zoom link on the day of the event.
Event held in English.
Web 3.0 is a synonym for the long promise of owning our Internet self. Decentralized is now a familiar term forged by the current use of cryptocurrencies and NFTs.
But behind this technology, there are still doubts about this network's governance and trustworthiness. Several questions remain:
- Who is designing this new internet?
- What are the trade-offs of a decentralized web?
- Are we ready for it?
Register to get your free tickets and free beer on our hangout.
AGENDA
0600 PM OPEN DOORS
0630 PM ECOSYSTEM BRIEF
0640 PM WARM-UP PITCH
0650 PM TALK w/
Diogo Mónica, Co-Founder and President at Anchorage Digital
Fiona Disegni, ex-Innovation Principal at Farfetch
Nuno Lima da Luz, Principal Associate at Cuatrecasas & President at Associação Portuguesa de Blockchain e Criptomoedas
Pauline Foessel, Founder & Director at Artpool
(moderated by) Tim Smith, Senior Reporter at Sifted
0720 PM Q&A
0730 PM DRINKS + CONNECT
ABOUT THE SPEAKERS
Diogo Mónica, Co-Founder and President at Anchorage Digital
Diogo Mónica is the Co-Founder and President of Anchorage Digital, the premier digital asset platform for institutions. He holds a Ph.D. in computer science from the Technical University of Lisbon, and has worked in software security for over 15 years. As an early employee at Square, he helped build security architecture that now moves $100B annually. At Docker, he helped secure core infrastructure used in global banks, governments, and the three largest cloud providers.
Fiona Disegni, ex-Innovation Principal at Farfetch
At the crossroad between entrepreneurship, startup ecosystem and corporate innovation, Fiona was Innovation Principal at Farfetch for the last 3 years, shaping the new tech strategies at the luxury e-commerce group level and notably in the 3D/ Metaverse area. Her team has been at the core of pioneering proof of concepts in the luxury area from virtual try-on, AR and digital worlds. She recently left the company to focus further on Web3 and was part of the first cohort of the selective web3 training programme "Operation3" led by VC Alven Capital and Jericho. Her ambition: to bridge further web2 and web3 by connecting the players and designing solid and scalable strategic ecosystems.
Building bridges has always been part of her DNA: Before Farfetch, she was the Country Manager of Frenchfounders, a leading network for French-speaking entrepreneurs, investors and top executives, for the community in the UK, Switzerland, Belgium and Israel.
From a paradigm to another, from a company to another - between Sephora, l'officiel magazine, Burberry or ASOS - reinventing the fashion experience towards more sustainability and more purpose has always been at the core of her initiatives: after her studies at ESCP and Sciences Po in London and in France, she even launched her own startup in 2012, a peer to peer and designer fashion rental marketplace called Rentez-Vous, one of the first circular economy startups in Europe. Today, it's via all the tech, ownership and co-creation enablers of Web3 that she is seeing the future of fashion and e-commerce.
Nuno Lima da Luz, President at Associação Portuguesa de Blockchain e Criptomoedas
Nuno is a Tech & Web3 Lawyer at Cuatrecasas, providing legal advisory to several projects within the virtual assets industry. From a very young age, Nuno has been deep into computer sciences and its applications which allows him to make bridges between law and technology in a seamless way.
He is also a Member of the Portuguese Bar Association and President of Associação Portuguesa de Blockchain e Criptomoedas, the oldest association in Portugal for blockchain and crypto-economy.
Pauline Foessel, Founder & Director at Artpool
Pauline Foessel is the curator and entrepreneur behind Artpool whose extensive work as director at art institutions, galleries and studios has shaped her understanding of the art landscape globally. Formerly known as Art Curator Grid, Artpool is the first social network to build an international community of curators, and grows from its matrix to further Foessel's mission of connecting artists, curators and art lovers. Artpool simplifies the creation of a new digital revenue stream by harnessing blockchain technology coupled with a playful and inclusive user experience.
Beyond shaping the art tech space, Foessel's work as co-director at Underdogs Gallery and her previous directorship of Alexandre Farto's Vhils Studio placed Lisbon on the global map of contemporary public art while promoting a generation of urban artists. In addition to her work in Lisbon, Foessel, a native of Grenoble, France, has held management and development positions at Galerie Magda Danysz in Paris and Shanghai and at the Hong Kong Contemporary Art (HOCA) Foundation.
[moderator] Tim Smith, Senior Reporter at Sifted
Tim is senior reporter and Iberia Correspondent at Sifted. He started his career on the Guardian's tech weekly podcast, before becoming a producer at BBC World Service Radio. He's been reporting from Spain since 2017, working for BBC, the Financial Times, Deutsche Welle, Pink News and Radio New Zealand.
ABOUT ABOVE & BEYOND HANGOUTS
Above & Beyond Hangouts are a monthly hangout for all of those hacking the Portuguese entrepreneur ecosystem.
Happening every last Wednesday of the month, at Ferroviário, it is a great opportunity to gather all level ecosystem players wanting to contribute to overcoming the community's challenges.
Every year, in November, Lisbon is turned into the epicenter of the entrepreneurship community. We want to leverage that community, and create a frequent space where everyone can discuss important topics for the development of the ecosystem.