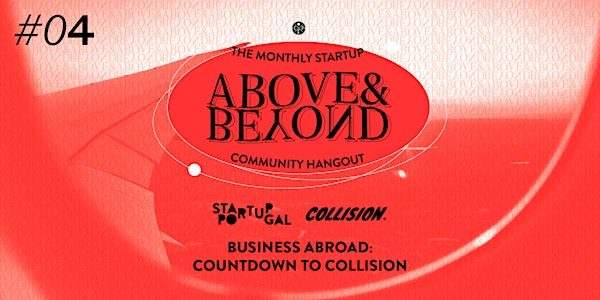 Above & Beyond Hangout #4 // Business Abroad: Countdown to Collision
Above and Beyond Hangout #4 // Business Abroad: Countdown To Collision
Quando e onde
Localização
Ferroviário 59 Rua de Santa Apolónia 1100-468 Lisboa Portugal
Acerca deste evento
Register in this event to claim your ticket to attend in person or remotely. Remote event ticket holders will receive the Zoom link the day before the event.
Event held in English.
When scaling a startup, an entrepreneur's journey is quite uncertain. Doing business abroad requires a keen eye for what you want to be in the future while making sure you have an adequate team to support what you've already built and the new international venture.
Scaling is about expanding horizons and growing your network. In this edition, we partnered with Web Summit, ahead of this year's Collision event in Toronto, to bring you the stories of entrepreneurs who have been through – or are in – the process of internationalizing their startups, so they can share their experiences and tips for those who go next.
This hangout will start with a special fireside chat with Carlos Moedas (CML), Paddy Cosgrave (Web Summit), Beatriz Freitas (BPF) along with António Dias Martins (Startup Portugal), to discuss how international conferences can help different ecosystem actors expand their operations.
Following this, we will give the stage to several startups participating in this year's Startup Portugal's Business Abroad missions to Spain, Germany and France. A great opportunity to know their internationalization strategies and their challenges!
Finally, we will end with a talk with EMOTAI, Splink and sheerME about the obstacles and pains of scaling up their businesses, hoping to learn with their valuable experiences and thoughts about how to scale abroad.
Register now to get your free ticket and join the discussion
AGENDA
0300 OPEN DOORS
0325 WELCOME
0330 FIRESIDE CHAT: COUNTDOWN TO COLLISION w/ Carlos Moedas (CML), Paddy Cosgrave (Web Summit), Beatriz Freitas (BPF), moderated by António Dias Martins (Startup Portugal).
0400 BUSINESS ABROAD PITCH SESSION: Meet a group of this year's Business Abroad Startups
Tiago Oliveira, Vawlt
Hugo Venâncio, REATIA
Marta Pinto, Onecare
0415 TALK: COLLISION STARTUPS w/ Carolina Amorim (EMOTAI), Dulce Guarda (Splink) and Miguel Alves Ribeiro (sheerME), moderated by Patrícia Roque (Startup Portugal).
0435 Q&A
0445 DRINKS + CONNECT