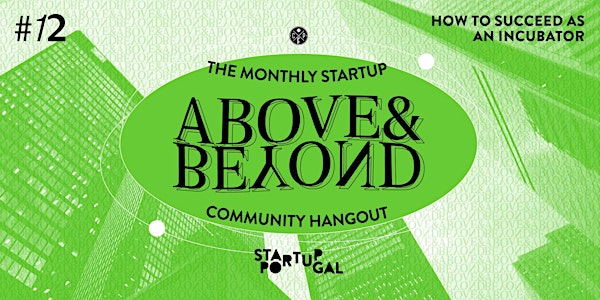 Above & Beyond Hangout #12 / How to succeed as an incubator
Wanna succeed as an incubator? Register here to join us and learn all about running and thriving as an incubator!
Quando e onde
Localização
Ferroviário, Rua de Santa Apolónia 59 59 Rua de Santa Apolónia 1100-468 Lisboa Portugal
Acerca deste evento
Register for this event to claim your ticket to attend in person or remotely. Remote event ticket holders will receive the Zoom link on the day of the event.
This event will be held in English.
Accelerators and Incubators are the backbone of any entrepreneurial ecosystem. With an astonishing number of over 150 of these entities active in Portugal can we really say that we're well equipped to guide new startups and entrepreneurs in their journey towards sucess?
Startup Portugal is launching the "Accelerator and incubator Vouchers", a measure that contemplates 20 million euros to support both entities in their quest for professionalization. Digital development and the hiring of specialized human resources will be the main focuses of this investment.
We believe accelerators and incubators play an important role in raising the level of success of startups and we know their teams and directors are eager to elevate that role to the next level.
You're invited to join this conversation with Portuguese incubators to learn more about how to find success as an incubator, the biggest challenges to overcome and explore ways to increase the connection between incubators of different scale.
AGENDA
0600 PM // OPEN DOORS
0630 PM // ECOSYSTEM BRIEF w/ David Magboulé, Head of Growth & Acceleration at Startup Portugal
0640 PM // WARM UP PITCH
- RAIZ
- ARROW4D
- Automaise
0655 PM // TALK HOW TO SUCCEED AS AN INCUBATOR
- Teresa Biléu, Coordinator at StartUP Montemor-o-Novo
- Luís Rodrigues, Diretor at Startup Braga
- Rui Gouveia, CEO at Build Up Labs
(moderated by) Nádia Leitão, Managing Director at StartUp Barreiro
0755 PM DRINKS + CONNECT
ABOUT ABOVE & BEYOND HANGOUTS
Above & Beyond Hangouts are a monthly hangout for all of those hacking the Portuguese entrepreneur ecosystem.
Happening every last Wednesday of the month, at Ferroviário, it is a great opportunity to gather all level ecosystem players wanting to contribute to overcoming the community's challenges.
Every year, in November, Lisbon is turned into the epicenter of the entrepreneurship community. We want to leverage that community, and create a frequent space where everyone can discuss important topics for the development of the ecosystem.