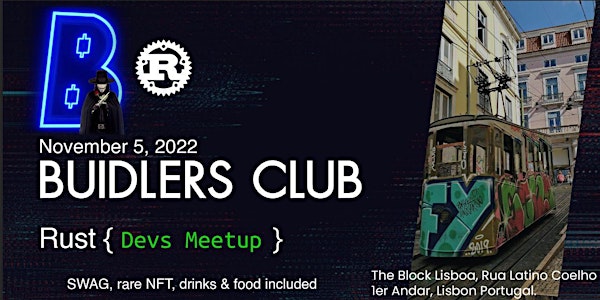 B for Buidlers
Welcome Devs &
When and where
Location
The Block Lisboa 63 Rua Latino Coelho #1er Andar 1050-133 Lisboa Portugal
About this event
Welcome 🕸️3 Builders
Blockchain developers meetup, Rust devs, Hackathoners, Teams and Builders.
Claim your NFT and get Special Edition "Builders Club" SWAG
Many people in Lisbon for difference conferences. We invite all coders to join.
Rust and Blockchain devs from ETH Lisbon, Solana, Polkadot, Cosmos, NEAR, Fantom, Ledger, Filecoin and more.
Send this invite to your dev frens.
SWAG, POAP NFT, delicious food & drinks included.
B for Bendetta NFT
Music by DOHKA Records (NFT playlist).
Remember remember the 5th of November, 2022.