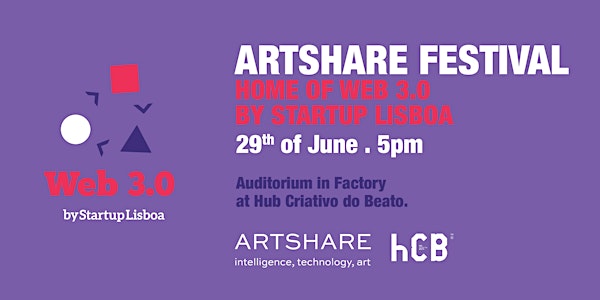 Artshare Festival | Home of Web 3.0 by Startup Lisboa
Join us in discussing ideas, discovering opportunities, and fostering networking and collaborations in the Web3 space.
When and where
Location
Hub Criativo do Beato @ Auditorium in Factory Lisbon 118 Rua da Manutenção 1900-321 Lisboa Portugal
About this event
Do you have a startup on Web3? Do you want to create your project? Are you an entrepreneur, investor or mentor? This event is for you! 🧐
Artshare Festival & Conference aims to create the space to showcase concrete solutions based on the latest digital innovations.
⏰29th June, 5pm
📌Auditorium in Factory in Hub Criativo do Beato
This event is open to all people belonging to our ecosystem.
Entrepreneurs, startups and teams working with Web3;
Investors, VCs and accelerators;
Mentors and people connected to the entrepreneurial environment;
General public.
Our Agenda 🚀
What is included? 😉
🍻 Drinks to spark conversation;
😎 Participation of Web3 startups;
💎 Access to an exclusive Discord channel for the Web3 community.
Shall we meet on the 29th of June? 😉
Welcome to the Home of Web 3.0 by Startup Lisboa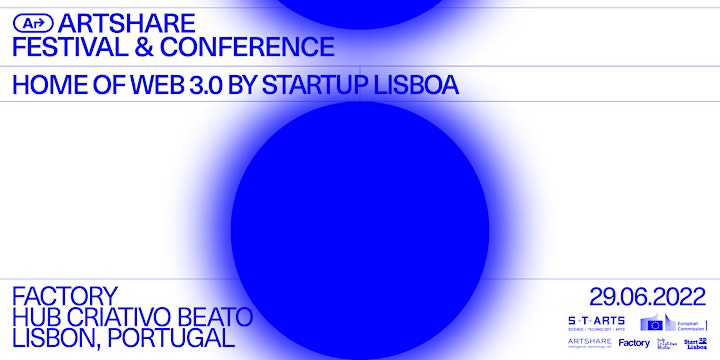 About Artshare Festival & Conference
Reinventing science and technology through the arts is our pact of hope to adapt and healthily live uncertainty.
Hope is a critical driving force giving us purpose and sparking our determination toward senseful action. In a rocky planet of limited and unsecured natural resources, transforming it into a more sustainable and resilient one is now not only urgent but a matter of survival. Digital has been demonstrated to help enable that transformation. However, further pushing the boundaries of science and technology to innovate is deemed necessary.
Startup Lisboa supports this initiative by promoting an event within the Festival to promote the entrepreneurship and Web3 ecosystem.
Get tickets here 👇