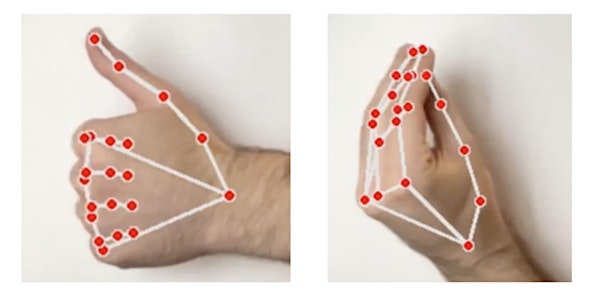 Artificial intelligence and computer vision with MediaPipe
This workshop will introduce participants to the field of computer vision with the OpenCV and MediaPipe libraries for Python
When and where
Location
Faculdade de Belas Artes da Universidade do Porto 265 Avenida de Rodrigues de Freitas 4049–021 Porto Portugal
About this event
This is a 3-hour beginner-level workshop OpenCV (https://opencv.org/) and MediaPipe (https://mediapipe.dev/) libraries for Python (https://www.python.org/).
The workshop will be in-person and in Portuguese language, in the Room PS43, Faculty of Fine Arts, University of Porto.
We will be starting from scratch, so no knowledge of artificial intelligence or programming is required. By the end, these tools should not only be already applicable in a variety of projects but also serve as a solid foundation to explore the topic further.
We'll begin with the installation of the required software - Python language, libraries, Visual Studio Code - and follow it up with a brief introduction to Python. Then we'll start with the OpenCV library and learn how to use our webcam and how to manipulate the captured image.
Finally, we're going to use MediaPipe to analyze that image and detect our faces, hands or entire bodies, and finish off with a couple of possible fun examples of what we can do with it.
——
Requirements
Participants must have access to a personal computer with the Eduroam Internet connection configured (to be able to access and download the required software and libraries) and a working webcam to participate in the workshop. (An alternative public wifi connection will be available)
The software used during the sessions is freely available online at:
- https://code.visualstudio.com
- https://www.python.org/downloads/
- https://pypi.org/project/opencv-python/
- https://pypi.org/project/mediapipe/
Any additional links or materials will be emailed to the registered participants on the day before the workshop or will be handed out during the workshop.
The workshop will be in-person and in Portuguese language but suitable for English-speaking attendants. Participants are required to follow the U.Porto code of conduct.
——
Participants' registration limitation and waiting list
The workshop will only take place with a minimum of 6 participants. Registration is limited to a maximum of 20 participants. Registration will be managed exclusively through EventBrite.
If more participants than available slots are interested, a waiting list will be setup. We ask participants who are unable to attend to cancel their registration on EventBrite so that the system can give an opportunity to those on the waiting list to register and attend.
——
More information
This workshop is part of the Processing Community Day 2023 @ Porto: https://pcd.fba.up.pt/2023/
The PCD23 is a free and open-participation event and part of a larger initiative: https://processingfoundation.org/advocacy/processing-community-day-2020. We welcome all members of the local and international community to join us. It aims to promote Creative Computation and Computational Design Thinking.
Additionally to this series of warm-up workshops, the conference program features a keynote conference from Anna Carreras, an exhibition (resulting from the call for works that is open until January 15, 2023), and a final Education Roundtable with a selection of guests from all over the country. Participation in all activities is free, but registration is required.
——
Instructors
Mário Pereira, student at FBAUP in the 4th year of the Fine Arts Bachelor, in the Multimedia branch, mostly dedicated to the development of video games, interfaces and music production. See more of Mário's work here.