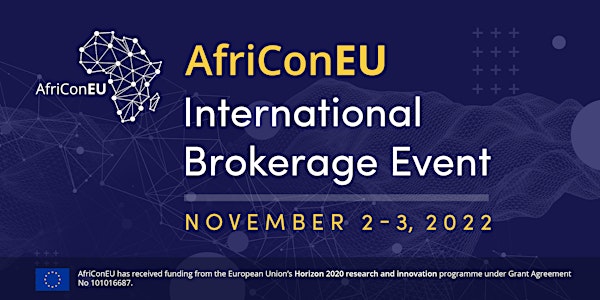 AfriConEU Brokerage Event
A two-day event to promote collaboration and knowledge sharing between the African and European innovation ecosystems
When and where
Location
BIGBO Boost Innovation Garage 4 Via della Ferriera 40133 Bologna Italy
About this event
The AfriConEU Brokerage Event will be hosted November 2 and 3, 2022 in Bologna, Italy with parallel events in Ghana, Nigeria, Tanzania and Uganda. (When you register, select the ticket for where you are planning to attend)
The European and African digital ecosystems are rapidly changing, and Digital Innovation Hubs (DIHs) are leading the way. There are more than 600 DIHs across Europe exploring a wide range of areas with a similar number of African hubs estimated. Successful digital transformation, however, faces major challenges related to the sustainability of the companies, necessary skills, specialization and more. To support DIHs and the ecosystems they work with in facing these challenges, the two-day event will focus on three main activities:
Presenting good practices in the African and European innovation ecosystems
Networking and developing strategic partnerships among the participants
Identifying challenges and opportunities connected to the work of AfriConEU
As a participant, you'll get to hear from experts from all around Africa, Europe, and the African Diaspora about their work to support African innovation and entrepreneurship. You'll take part in conversations about the future of collaborations between Africa and Europe. And you'll connect with a community of colleagues from across various backgrounds, with a focus on building partnerships leading to new projects and opportunities.
Day one
will present leaders from diverse innovation stakeholder groups (investors, startups, DIHs, public sector, academia) speaking about their work connecting African and European innovators. It will include expert panel discussions on 4 verticals:
Agritech
Edtech
Fintech
Technology for Development
Day two
will focus on interactive conversations among our participants, discussing the challenges and opportunities to collaboration between the innovation ecosystems, and developing strategic partnerships to meet those needs.
The event will also include a dedicated networking platform for you to make connections and have conversations throughout the activity.
Parallel Sessions
The main event in Bologna will be accompanied by parallel events hosted at digital innovation hubs throughout Africa where participants can hear speakers on and engage in conversations specific to their regional ecosystems and connect for networking and collaborative discussions with participants in all the event spaces.
Parallel events are planned for:
Emerging Communities Africa (ECA) in Akure, Nigeria
Hapa Space, in Kumasi, Ghana
Outbox, in Kampala, Uganda
Buni Innovation Hub, in Dar es Salaam, Tanzania
The AfriConEU project aspires to create the first Trans-Continental Networking Academy to support African and European DIHs in capacity building, knowledge sharing, networking, collaboration, joint projects, and venture development.
Learn all about our work at: https://africoneu.eu/