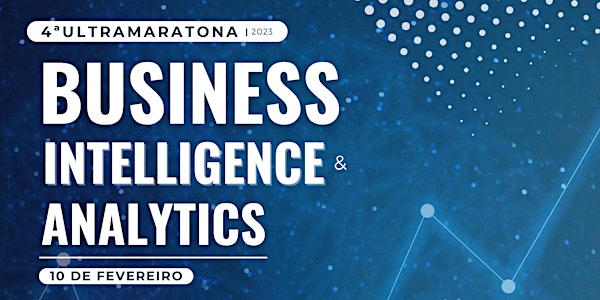 4.ª ultramaratona de Business Intelligence & Analytics
A 4.ª ultramaratona de Business Intelligence & Analytics pretende dar a conhecer projetos de Business Analytics em curso nas empresas
By ISCAC Coimbra Business School
When and where
Date and time
Friday, February 10 · 5 - 11:55pm WET
Location
Instituto Superior De Contabilidade E Administração De Coimbra Quinta Agrícola - Bencanta 3045-601 Coimbra Portugal
About this event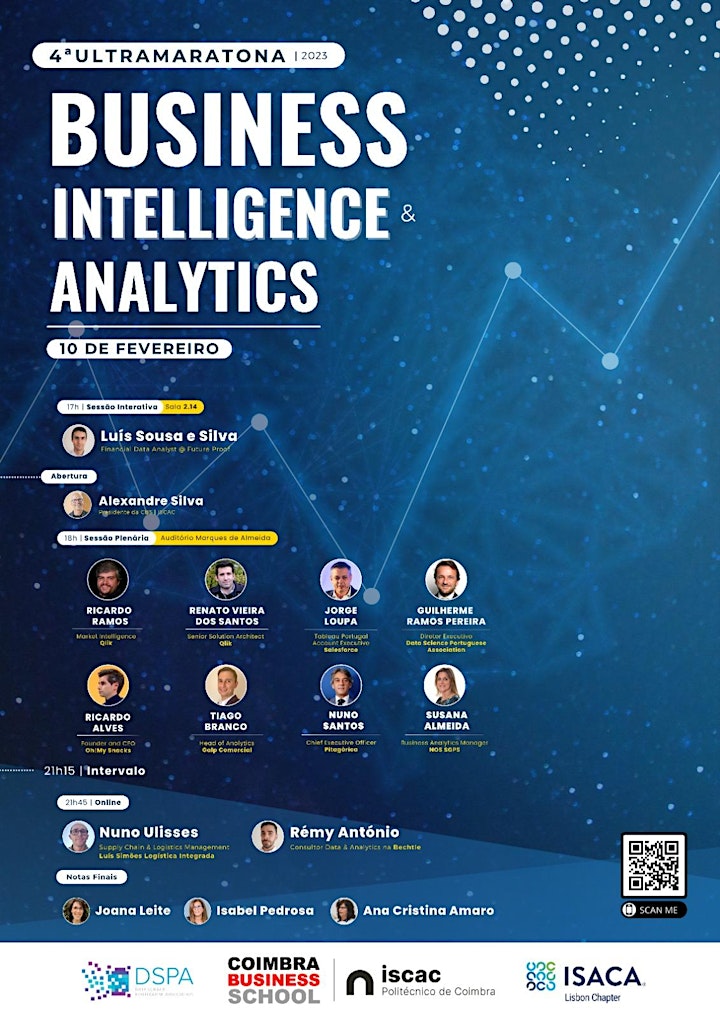 A 4.ª ultramaratona de Business Intelligence & Analytics pretende dar a conhecer projetos de Business Analytics em curso nas empresas e discutir os desafios dos projetos deste tipo.
A organização é da Coimbra Business School | ISCAC em parceria com:
- DSPA - Data Science Portuguese Association
- ISACA Lisbon Chapter
Decorre no Auditório Marques de Almeida, nas instalações da Coimbra Business School | ISCAC.
Realizar-se-á exclusivamente presencialmente - das 17:00 às 21:00 - e exclusivamente online das 21:45 às 23:30.
10 de fevereiro | 17:00 - 23:55
Programa (TBC)
Sessão interativa - sala 2.14 (inscrição limitada a 45 participantes) - PRESENCIAL
17:00 - Luís Sousa e Silva, Financial Data Analyst @ Future Proof
Sessão plenária - Auditório Marques de Almeida - PRESENCIAL
18:00 - Boas-vindas | Alexandre Silva, Presidente da CBS | ISCAC
Ricardo Ramos , Market Intelligence at Qlik, e Renato Vieira dos Santos, Senior Solution Architect - CoE EMEA at Qlik
18:40 - Jorge Loupa, Tableau Portugal Account Executive at Salesforce
19:20 – Tiago Branco, Head of analytics da Galp Comercial
19:45 – 20:45 - Painel - Desafios dos Projetos de Data Analytics
Oradores:
Tiago Branco (Head of analytics da Galp Comercial )
Susana Caçador Almeida (Advanced Analytics and Big Data Project Manager da NOS SGPS)
Ricardo Alves (Founder e CEO da Oh!My Snacks)
Moderadores - Guilherme Ramos Pereira (DSPA) e Nuno Santos (CEO Pitagórica)
21:00 -21:45 --- Intervalo ----
Sessão ONLINE em Zoom
ID da reunião: 921 8463 5906 e Senha de acesso: 737576
21:45 – Nuno Ulisses Costa, Supply Chain & Logistics Management, Luís Simões Logística integrada
22:15 - Rémy António, Consultor Data & Analytics na Bechtle - Uma maratona de 1780 km, desafios de trabalhar na BI na Suíça
Notas finais: Joana Leite, Isabel Pedrosa e Ana Cristina Amaro, ISCAC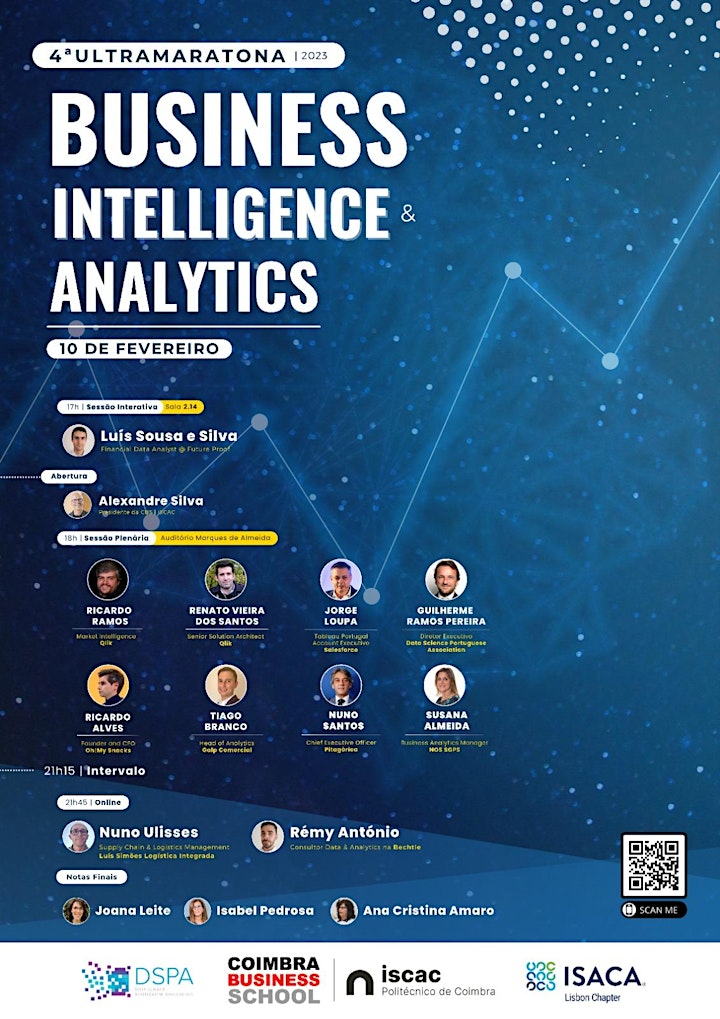 Frequently asked questions
O evento tem transmissão em Zoom?
Há limite de lugares na sessão interativa, às 17?