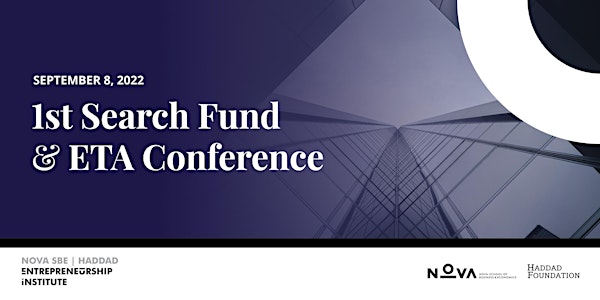 1st Search Fund & Entrepreneurship Through Acquisition Conference
Location
Nova School of Business and Economics
1 Rua da Holanda
2775-405 Carcavelos
Portugal
Discover why Entrepreneurship Through Acquisition is becoming a hot topic among top business schools in US and Europe.
About this event
Haddad Entrepreneurship Institute will be hosting the 1st Search Fund & Entrepreneurship Through Acquisition Conference in Nova SBE Campus.
The conference will be an opportunity for active SME investors, students, search-CEOs, active searchers, new searchers, and search fund investors to meet and explore current trends and opportunities in Portugal and around Europe.
Agenda:
15h00 - 15h30: Welcome & Introduction to Entrepreneurship Through Acquisition
15h30 - 16h00: Current Searchers
16h30 - 17h00: Search Funds Investors
17h00 - 17h30: Growing SMEs
17h30 - 18h30: Networking Cocktail